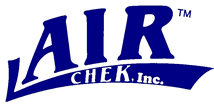 How do we test for radon?
ProChek Real Estate Radon Test Kits
Air Chek, Inc. www.radon-pro.com
Radon tests are administered according to US EPA short-term testing protocols.
How Long does it take?
2 Test kits remain in undisturbed home for a minimum of 48 hours.
Exposed test kits are mailed to lab in FedEx Overnight mailers.
The lab will analyze the test the day they are received. The results are available that same afternoon. Keep in mind that the FedEx time only includes business days. So if we drop off your tests at FedEx on a Friday before 3pm, the lab will get the test on Monday for analysis and you'll have the results Monday afternoon. Holidays may extend ship time.
What does the report look like?
How much does it cost?
$175 Fee with General Home Inspection (set up at end of home inspection with 1 round trip for retrieval)
$250 Fee without General Home Inspection or (set up on separate date than home inspection with 2 round trips for set up & retrieval)
Fees are estimated costs within 30 minute round trip(s) from Baxter, MN
Extended mileage fee = $50/hour beyond 30 minute round trip(s)
Example:
A one hour round trip to Crosslake, MN from Baxter, MN would have 30 minute extended travel.
30 minutes = $25/Round Trip
Discount available for Brokers pre-testing multiple listings—Request Quote